DataSAGE
Virginia Secure Analytics and Governance Environment (SAGE)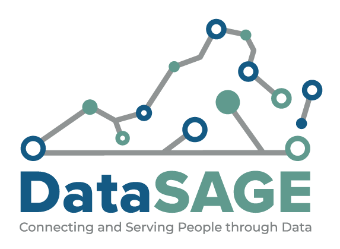 DataSAGE is Virginia's Secure Analytics and Governance Environment and launched August 2020. The Commonwealth of Virginia has over 1,400 different data systems that hold open and restricted data assets that include de-identified data as well as personally identifiable information (PII). The ability to link information about individuals across multiple systems relies on matching PII across these systems in a secure way. To increase efficiency and remove vulnerabilities in sharing PII, Virginia's first Chief Data Officer, Carlos Rivero, created the Commonwealth Data Trust. Essentially, DataSAGE is the technical implementation of the Commonwealth Data Trust. The PII data from different systems are ingested into a consolidated, secure environment managed by the Office of Data Governance and Analytics to build an anonymized crosswalk creating a master person identifier for each unique individual. This universal identifier is then mapped to the local identifier for that same individual in whatever system they may exist. The anonymized crosswalk table is used to match the de-identified attribute data for an individual across multiple systems. De-identified attribute data may include fields like gender, driver's license status, participation in social service programs, etc.
DataSAGE facilitates sharing of restricted-use data with research partners, state agencies, Commonwealth localities, and other organizations whose projects have been approved by the appropriate data owners.
Restricted-use data can be aggregated and summarized to allow for public consumption through the Open Data Portal. A variety of different data products can be automatically published directly to the Open Data Portal. This process and these decisions are governed by the Data Governance Council. Learn more about the data documentation process that occurs before the restricted data assets reach DataSAGE.
Access the DataSAGE platform.