Blog Posts
Bits and Bytes Blog
Get to Know the New CDO
Tuesday, April 19, 2022
Help us welcome Ken Pfeil, the new Chief Data Officer. We took some time to get to know him and ask what his goals are for the Office of Data Governance and Analytics!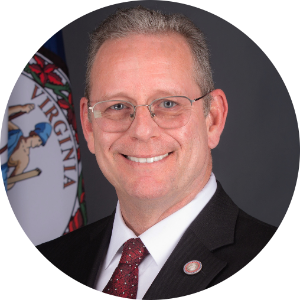 What are you looking forward to accomplishing during your time as CDO?
In a nutshell, I'm looking forward to being a part of helping conceptualize, develop, and implement data solutions that not only drive efficiency in government, but enhance and enrich the lives of Virginians.
If you could give advice to an aspiring data professional, what would it be?
Don't just immerse yourself in technology. While technology may be a big part of the overall equation, understanding the problem(s) and issues to be solved are much more important. Set yourself up to be well rounded, and always look to expand outside your comfort zone.
What creates a successful data governance and analytics program?
People and communication are two key factors. The ability to drive consensus among stakeholders, relate achievable use cases and requirements in order to present clear outcomes and solutions that make sense in the business context.
The Office of Data Governance and Analytics was recently established in July 2021, what is your vision for the new Office?
I want to continue to mature the agency and capitalize on the solutions we have already delivered, demonstrate the value of the Data Trust throughout the Commonwealth, and promote open sharing of non-sensitive data that has value. I want the Office of Data Governance and Analytics to be innovative where predictive analytics are concerned.
If you could have a billboard with anything on it, what would it be and why?
"If we fail to adapt, we fail to move forward." People are inherently resistant to change. It's human nature. In order to break down silos you have to occasionally live outside your comfort zone. Once you're able to do that, you'll begin to see value in other ways of doing things. In order to change the world, you have to be innovative. There are countless examples of this in business. Gates, Musk, Bezos, Page/Brin all come to mind here. I'm elated to join an administration that has a similar mindset.
What's your go-to order at your favorite hometown restaurant?
Can't go wrong with a great steak and a glass of wine.
What is one quote or philosophy that you live your life by?
I would have to say "Do unto others as you would have them do unto you." Treat others the way you would like to be treated. Help where you can, but don't be too proud to ask for help yourself. We're all on this big blue sphere together, so try to make a difference in someone else's life while you still have the chance.
How do you plan to quantify and measure the value of data governance and analytics?
I'm still assessing where we are and where we've been, but the value has to be evident, prevalent and communicated with every project we take on and every initiative undergone. I'd have to say "stay tuned" on this one!